The IB Diploma Programme (DP) at BKA will challenge students to reach high with their academic goals. Our students will strive to enter some of the best universities in Switzerland including- ETH Zurich, EPFL, the University of Basel and the world universities including- Yale, Harvard, Oxford, Cambridge, London School of Economics and many others.
We will have a diverse offering of subjects which allows students to pursue their own interests whilst meeting their future academic needs and career plans.
An Introduction to the DP
Among the many high school qualifications around the globe, the IB Diploma Programme (DP) has earned its reputation as being among the most challenging and broadest in focus. Taking place over the final two years of high school, for students from 16 to 19 (Grade 11 & Grade 12), the programme requires study of the humanities, at least two languages, experimental science, mathematics and the arts.
An essay component, reflections on knowledge and perception, and service in the surrounding community link the subjects together, encouraging students to reflect on their values and recognize those of others. Through its interconnected approach, the DP challenges, enriches and empowers. Students emerge from the programme as global citizens: articulate, compassionate and insightful individuals who strive to impact their communities and the world in a positive way.
The DP Framework at BKA
The aim of the DP at the BKA is the holistic development of students intellectually, emotionally, physically and socially, so that when they leave us they are ready for active world citizenship. In addition to the required subject groups, at least three of which must be taken at the higher level, students must also meet several other core requirements in order to earn the IB diploma.
Theory of Knowledge is a course that ties together the various subjects they study, encouraging them to look at knowledge and learning from different perspectives and apply this to their personal growth. An extended essay component requires that they independently select and research a topic of their choice, drawing from their studies and synthesising new sources. Finally, to instill a sense of connection and empathy, Creativity, Action, Service (CAS) moves their learning outside the classroom into the greater community.
By following this well-rounded framework, centred on the IB mission in the form of the IB learner profile, our graduates will be fully prepared for further studies at the best universities in the world.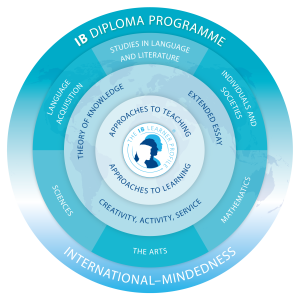 Interested in Learning More?
The Diploma Programme offers university-bound students a holistic programme with an international focus. This broad outlook provides not only a solid foundation in academic knowledge and skills, but also helps them develop a deeper understanding of the learning process itself.
Research indicates that DP graduates develop stronger critical thinking skills, enhanced academic persistence and results, and also perform at a higher level in their university level studies. As described by the IB, the DP thus "aims to develop students who have excellent breadth and depth of knowledge – students who flourish physically, intellectually, emotionally and ethically".